SLAVITO PROBIOTIC Immunity Control - recommended by Dr H. Czerniak
Immunity control Probiotic - liquid dietary supplement 
Net volume: 500ml 
Application:
Live and active strains of probiotic bacteria complement the human intestinal microbiota and positively affect its microbiological balance. Extract from fermented fruits of black chokeberry, acerola, hawthorn, black currant, sea buckthorn and cranberry, as well as centella asiatica and lemon balm as well as vitamin C are the perfect support for immunity.
Ingredients:
Extract from fermented herbal plants with vitamin C (100%), including 20% ​​black chokeberry fruit(Aronia melanocarpa), 16% acerola cherry fruit(Malpighia emarginata), 13% hawthorn fruit(Crataegus monogyna), 13% herbcentellaasiatica, 11% black currant fruit(Ribes nigrum), 10% sea buckthorn fruit(Hippophae rhamnoides), 10% cranberry fruit(Vaccinum macrocarpus),6.8% lemon balm herb(Melissa officinalis),0 .2% vitamin C and a set of live and active strains of probiotic bacteria in liquid form (min. 2 x 10⁷ cfu/ml).
Microbial components of live bacterial cultures:
The dietary supplement was produced in a cascade fermentation process of herbal plants, with live and active strains of probiotic bacteria, including:Lactobacillus rhamnosusGG, LR 04, LR 05,Lactobacillus acidophilusLA 1,Lactobacillus delbrueckii ssp. bulgaricusLB 2,Lactobacilluscasei101/37,Lactobacillus plantarumLP 02, LP 01,Lactobacillus fermentumLF 2,Bifidobacterium breveBL 10, Bbr 8,Bifidobacterium longumBL 03,Bifidobacteriumanimalis ssp. lactisBi 1, Streptococcus thermophilus Z 57.9 Y.
Table of nutritional values ​​per daily portion (30 ml)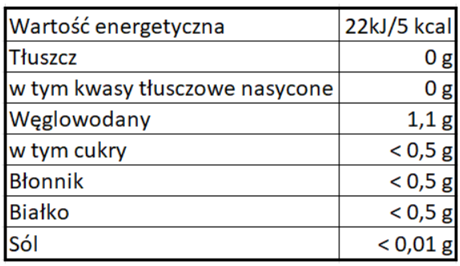 Vitamin C in 30ml 63mg (78.75%)
*RWS - reference intake value for an average adult (8400 kJ / 2000 kcal)
Gluten-free product, no added sugars, sweeteners, contains naturally occurring sugars. Unclarified, unpasteurized. The function of a natural preservative is performed by the biofunctional postbiotics contained in the supplement, including organic acids and antioxidants.
Directions for use:
Adults -  3 times a day after a meal, measure 10 ml using the measuring cup attached to the bottle and dilute in 100 ml of water. After mixing, consume within a few minutes. Do not exceed the recommended daily dose of 30 ml of the product during the day.
Children over 3 years of age - 15 ml during the day, diluted in 100 ml of water, after mixing, consume within a few minutes. Do not exceed the recommended daily dose of 15 ml of the product during the day.
A plastic scoop is included in the package, used to measure the daily portion.
Contraindications:
Dietary supplements cannot be used as a substitute (replacement) of a varied diet. Children under 3 years of age: do not administer. Do not use in people who are allergic to any ingredient of the preparation. Consult your doctor if you are taking other preparations containing probiotic extracts, as well as if you are pregnant or breastfeeding. Maintaining proper health requires a balanced diet and a healthy lifestyle.
Storage : 
Store the product in a cool and shady place, out of reach of children. Do not expose to sunlight. After opening the bottle, store in the refrigerator, consume within 30 days. After each use, make sure that the bottle is tightly and hermetically closed. Sediment at the bottom of the bottle, possible white coating on the surface and gases audible when opening the bottle are a natural result of the fermentation process.