SLAVITO HerbinumVita Collagen - recommended by Dr H. Czerniak
Collagen HerbinumVita - powdered dietary supplement 
Net weight: 300g
Multi-ingredient product.
Glucosamine supports the production of joint cartilage. 

Vitamin C, among others, supports the proper production of collagen to ensure the proper functioning of joint cartilage. 

Stinging nettle and horsetail extracts have a positive effect on nails, hair and bones, 

Tricolor violet and marigold extracts support the maintenance of normal, beautiful skin. 

Horsetail herb additionally supports remineralization in the body. 

Hyaluronic acid supports the proper functioning of joints and the maintenance of smooth skin. 

Coenzyme Q10, called the "Coenzyme of Youth", supports the protection of cells against oxidative stress. 

Vitamin D supports the maintenance of the correct level of calcium in the blood, thus maintaining healthy bones and teeth, stimulates the immune system and maintaining proper energy metabolism. 

Biotin (D-biotin), i.e. vitamin B7, helps to keep the skin and hair in good condition
Fish collagen from Atlantic cod, orange and pineapple powdered juices, D-glucosamine sulphate (glucosamine), plant extracts from: marigold flower (Calendula officinalis), horsetail herb (Equisetum arvense), violet herb (Viola tricolor), stinging nettle leaf (Urtica dioica), ascorbic acid (Vitamin C), sodium hyaluronate (Hyaluronic acid), steviol glycosides from stevia (sweetener), Ubiquinone (Coenzyme Q10), D-biotin (Biotin), Cholecalcypherol (Vitamin D3).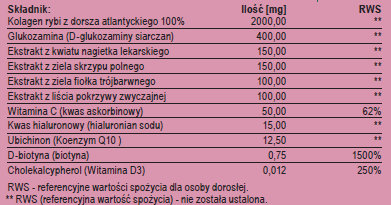 Content in a daily portion: 1 daily portion of the product (5g = 1 scoop)

To obtain the beneficial effect of the product, measure 1 flat scoop of powder (10ml = 5g of powder) and pour 100 to 150ml of warm, boiled water while stirring.

 

Consume in the morning during breakfast.

 

Do not exceed the recommended portion for consumption (1 scoop = 5g) during the day.

 

Remember that a balanced diet and a healthy lifestyle are the basis for the proper functioning of the body.

 

ATTENTION!

 

The powdered product is highly hygroscopic and therefore prone to caking.

 

To measure each time, we use a dry and clean measuring cup and the minimum opening time of the product, while taking a portion, thus avoiding its clumping.
Inside the package there is a plastic measuring cup with a capacity of 10 ml.
Do not exceed the recommended daily intake.

 

Dietary supplements cannot be used as a substitute (replacement) of a varied diet.

 

Dietary supplements do not replace a balanced diet and a healthy lifestyle.

 

Children under 18 years of age: consult a doctor.

 

Do not use in people allergic to any ingredient of the preparation, during pregnancy or in the case of breastfeeding.
Store in a dry place at a temperature below 25 ° C, out of the reach of small children.

 

After opening, consume within 65 days.

 

Protect from light.

 

Make sure the container is properly closed after each use.
Color differences may occur in the product due to the use of natural juice.

 

This does not affect the quality of the product.