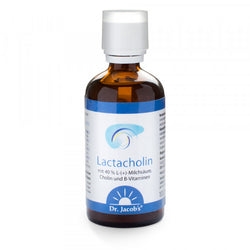 Dr. Jacob's Lactacholine 100 ml
For metabolism 1 , liver and nerve function 2,3
Lactacholin: fruity-sweet thanks to steviol glycosides from Stevia
✓ 40% right-handed lactic acid
✓ With choline and vitamin B complex
✓ With lactic acid from dairy-free fermentation
✓ Without sugar
100 ml (66 servings) 
Lactacholine with choline and B vitamins
Lactacholin with L-(+)-lactic acid from dairy-free fermentation, choline and B vitamins optimally supports the energy 1 -, fat 4 - and homocysteine ​​metabolism 5 as well as the maintenance of normal liver function 2 . Homocysteine ​​is a protein breakdown product, for the further metabolism of which the body needs vitamins B 6 and B 12 in addition to choline .
Health contribution by lactacholine
The nutrients in lactacholin can, among other things, make the following scientifically proven health contributions to normal bodily function: 
2

 Preservation of 

Liver Function

 - Choline

4 

Lipid metabolism

 - choline (construction of cell membranes, transport and metabolism of fat and cholesterol)

5 

homocysteine ​​metabolism

 – choline, vitamins B 

6

 and B 

12

1 

Energy metabolism and reduction of fatigue

 - vitamins B 

2

 , B 

6

 , B 

12

 and niacin

3 

Mental Function and Nervous System

 – Vitamins B 

1

 , B 

6

 , B 

12

 and Niacin

Preservation of 

skin and mucous membranes

 - vitamin B 

2

 and niacin

Heart function

 – vitamin B 

1

Immune system

 – vitamins B 

6

 and B 

12
Choline (formerly vitamin B 
4
 )
Choline was formerly also referred to as vitamin B 4 . Adequate choline intake should be ensured, especially during pregnancy and breastfeeding, with regular alcohol consumption and with a vegetarian or vegan diet. Only 10% of adolescents and adults in the USA achieve the recommended daily intake of 450-550 mg (unfortunately no data are available for Germany).
Dietary supplement
with sweetener steviol glycosides
Ingredients:
L-(+)-lactic acid (40%), water, choline hydrogen citrate (20%), sweetener steviol glycosides, nicotinamide, thiamine hydrochloride, riboflavin, pyridoxine hydrochloride, cyanocobalamin.
Made in Germany. With lactic acid from the Netherlands.
Nutritional values:
Average values ​​per:

1 x 1.5ml**

2 x 1.5ml***

choline

125 mg

250 mg

vitamin

 

B1

0.41mg (38%*)

0.83mg (75%*)

Vitamin

 

B2

0.53mg (38%*)

1.1mg (75%*)

niacin

4 mg NE (25%*)

8 mg NE (50%*)

Vitamin

 

B6

0.25mg (18%*)

0.5mg (36%*)

Vitamin

 

B12

1.25

 

µg (50%*)

2.5

 

µg (100%*)

L-(+)-lactic acid

700 mg

1400 mg
*Reference Daily Intakes (NRV); **1 portion; ***2 servings (daily dose);
NE = niacin equivalent
Consumption recommendation:
Drink 1.5 ml lactacholin in 300 ml water 1-2 times a day, preferably with meals. Never consume pure because of the high lactic acid content. Do not use if you have an acid-sensitive stomach.
Tip: Lactacholin can be optimally mixed with Dr. Combine Jacob's base powder .

Mandatory note:   The recommended daily intake must not be exceeded. Keep out of reach of small children. Dietary supplements should not be used as a substitute for a balanced, varied diet and a healthy lifestyle.
Shake before use.