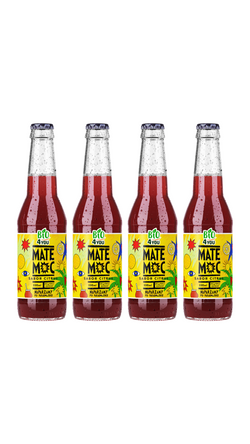 Bio Mate Fuel Sabor Citrus 330 ml, 4 bottles - 10% OFF
The first yerba mate drink in Poland made from an infusion, not an extract.
An ecological drink based on an infusion of the original Paraguayan Yerba Mate and Polish fruit juices.
A healthy energetic, rich in natural caffeine, which will give you energy, refresh your mind and stimulate your body.
Ecological drink with a certificate

A drink made from the infusion of the original Paraguayan yerba

We add juices from Polish NFC fruits
Each bottle contains a pure Yerba Mate infusion and fruit juices - no extracts, just BREATHING AFTER PARAGUAN
330ml / 28mg caffeine in 100ml bottle
Energy value: 103kJ / 24kcal in 100ml
Ingredients: 70% Yerba Sabor Citrus *, 15% raspberry juice *, 11.5% apple juice *, 3.5% cane sugar *.
* ingredients from organic farming