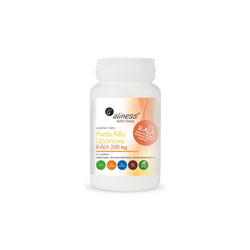 Aliness Alpha Lipoic Acid R-ALA 200 mg 60 capsules
Food supplement 

Alpha Lipoic Acid R-ALA 200 mg
STABILIZED ACTIVE FORM OF ACID

HIGH BIOAVAILABILITY
Due to its structure, alpha lipoic acid occurs in the form of two enantiomers R and S.
In nature, only the R enantiomer is bioavailable.
As a result of chemical synthesis, a racemic mixture of two R and S isomers is obtained, which is sold under the name ALA (alpha lipoic acid). However, the S enantiomer is practically useless and it is difficult to get rid of it from such a mixture.
The popular ALA acid does not have a marked ratio of the R to S enantiomer, and despite the maximum permitted dose of 600 mg of racemate (racemate, i.e. an equimolar mixture of isomers of the same compound (R-ALA and S-ALA), we do not know what the active R form is in it.
R-ALA is a raw material purified from the second S enantiomer, containing the pure R enantiomer, the one that naturally occurs in nature.
Due to its content of the R form and high activity, the maximum daily dose has been set at 300 mg for the pure R enantiomer.
Ingredients: 1 tablet Alpha Lipoic Acid (R-ALA). 200 mg
INGREDIENTS: bulking agent: calcium phosphates, Alpha Lipoic acid (R-ALA), anti-caking agent: silicon dioxide, food-grade talc.
HOW TO USE: 1-2 tablets a day, during a meal. Do not exceed the recommended daily dose.
A dietary supplement cannot be used as a substitute for a varied diet. A balanced diet and a healthy lifestyle are the basis for the proper functioning of the body.
STORAGE: at room temperature, out of the reach of small children.
PACKAGE: 60 tablets