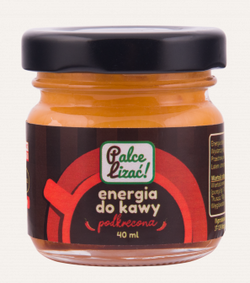 Palce Lizac Coffee Energy Curled Up 40ml
Energy for coffee is a composition based on ghee clarified butter with unrefined coconut oil, Indian cardamom, cinnamon, Madagascar vanilla pod and a bit of chilli.
Created especially for the so-called. bulletproof coffee, boost of energy, coffee does not acidify the body so much, does not wash out minerals, stimulates metabolism, accelerates fat burning, ideal before training.
a composition of coconut oil and ghee clarified butter with cardamom, cinnamon and vanilla

it is made by us using the traditional method, we clarify it in about 7-8 hours,

does not contain gluten, casein and lactose - it is a good alternative for people with intolerance to them,

can be consumed by pregnant and lactating women,

contains vitamins A, D, E, K,

does not contain preservatives, thickeners, dyes.
Nutritional value

in 100g

portion 5g (teaspoon)

Energy value

3401(kJ) / 825(kcal)

170(kJ) / 41 (kcal)

Fat

100

Saturated fatty acids

69

Carbohydrates

0

fiber

0

Protein

0

Salt

0