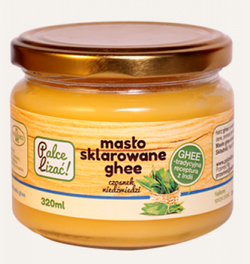 Palce Lizac Clarified Butter Ghee Wild Garlic 320 ml
Clarified butter with wild garlic, a fresh herb from Podkarpacie. It smells of the Bieszczady forest and the imprint of a bear's paw on the trail. It tastes great in scrambled eggs, sauces and casseroles, as well as with venison, red meat, and in soups. Ah, those Bieszczady mountains…
Characteristic
Ghee is a traditional Indian recipe for making butter,

it is made by us using the traditional method, we clarify it from 8 to 12 hours (depending on the season, i.e. what our cows eat - grass or hay),

ghee comes from the Bieszczady regions from the milk of Polish cows,

does not contain gluten, casein and lactose - it is a good alternative for people with intolerance to them,

does not burn, has a high smoke point - 260 C⁰,

can be consumed by pregnant and lactating women,

it is 100% milk fat,

contains vitamins A, D, E, K,

does not contain bad cholesterol,

does not contain preservatives, thickeners, dyes.
Application
Ghee butter can be widely used in the kitchen - it brings out the deep flavor of dishes, emphasizes the aromas of spices, combines flavors in dishes.
for frying - does not burn,

for cooking - for soups, stewing vegetables and meats, heating,

for baking - instead of unhealthy margarine,

on a sandwich - instead of ordinary butter.
Ghee butter is also used in cosmetics - thanks to its amazing properties, it is used in massages, skin and hair masks, for cleansing, as a cream.
Characteristics
has a lipoid structure - it is absorbed by the cells of the body,

is a good transporter of vitamins and microelements through the cell walls to its center,

cleanses the digestive system and improves digestion,

used for bathing - moisturizes the body,

strengthens and improves eyesight - cleansing treatments and so-called eye baths in ghee butter,

protects the gastric mucosa,

dissolves toxins and deposits in the body,

strengthens the immune system,

has a positive effect on neural connections,

improves brain function.
You do not need to store ghee in the fridge, room temperature is optimal for it. Our product is natural and seasonal, which is why it can have a different consistency in summer and winter - semi-liquid in summer, more compact in winter. The white precipitate is the result of natural processes.
| | | |
| --- | --- | --- |
| Nutritional value | in 100g | portion 5g |
| Energy value | 3675(kJ) / 894(kcal) | 183(kJ) / 44 (kcal) |
| Fat | 100 | |
| Saturated fatty acids | 73 | |
| Carbohydrates | 0 | |
| fiber | 0 | |
| Protein | 0 | |
| Salt | 0 | |