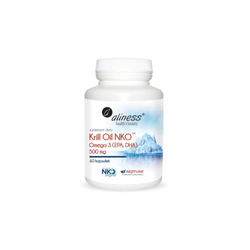 Aliness Krill Oil NKO Omega 3 with Astaxanthin, 500 mg, 60 capsules
Ingredients

1 capsule

2 capsules

NKO™ Krill Oil (Euphausia superba)

500 mg

1000 mg

including:




Phospholipids

210 mg

420 mg

Omega 3 fatty acids

150 mg

300 mg

including EPA

72.5 mg

145 mg

including DHA

42.5 mg

85 mg

Omega 9 acids

32.5 mg

65 mg

Choline

25 mg

50 mg

Omega 6 acids

7.3 mg

14.6 mg

Astaxanthin

500 µg

1000 µg
Ingredients : Neptune NKO ™ Krill Oil ( Euphausia superba) , fish gelatin, humectant: glycerol.
Krill oil using the patented Canadian NKO technology has the highest fat content - 98%, a large dose of omega 3, which, thanks to the content of phospholipids, is 2.5 times better absorbed by the body than fish oils because the omega 3 acids contained in krill oil are carried by phospholipids , making them more easily recognizable by our body.
NKO® contains up to 7 times more astaxanthin, a super antioxidant naturally found in krill. Additionally, it contains naturally occurring omega 6, 9 and choline acids.
The NKO certificate of analysis indicates a totox value of ± 1.1. This is an exceptionally good result because many fish oils have a value between 6 and 12.
The totox value is used to describe the total oxidation the oil has been exposed to. The lower the value, the fresher the oil.
Recommended daily dose necessary to obtain a beneficial effect : 1 or 2 capsules a day, during a meal.
The product cannot be used as a substitute for a varied diet.
It is recommended to follow a varied diet and a healthy lifestyle.
Storage conditions : Store at room temperature out of the reach of small children. Protect from moisture.
Package content : 60 capsules
Why NKO krill oil?
MARKET PIONEERS - Founded in 1998, Neptune was the first to introduce krill oil to the market in 2003 with a high content of omega 3 fatty acids and phospholipids.
HIGHEST CONCENTRATION - NKO® has a higher fat content - 98%, as opposed to the average of 92% that most other products contain. Additionally, NKO® has the highest levels of EPA and DHA in krill oil on the market; Wed. incl. EPA = 14.5 g/100 g, dia. containing DHA = 8.5 g/100 g.
EXCELLENT ANTIOXIDANT EFFECT - NKO® contains up to 7 times more astaxanthin, a super antioxidant with a red color, naturally occurring in krill.
JUSTIFIED ACTION - Clinical research has shown that EPA and DHA contained in NKO® are 2.5 times easier to absorb than in the case of fish oil - this is because the omega-3 acids contained in krill oil are carried by phospholipids, thanks to which they are they are more easily recognized by our body.
SYNERGISTIC EFFECT - Healthy fats, such as omega-3, ensure more effective absorption and use of astaxanthin in the human body!
HIGH STABILITY AND PURITY - The high content of astaxanthin in NKO® results in naturally enhanced oil stability, i.e. the lack of additives and the lowest amount of other solvents among the products available on the market. Additionally, using alcohol-free extraction, it is the ONLY halal certified krill oil.
GREATER ATTRACTIVENESS FOR THE CUSTOMER - thanks to the higher content of pure fat and astaxanthin, it was possible to obtain a product with a milder smell and red color
FRIEND OF NATURE -  The new Neptune facility means higher quality equipment and new manufacturing practices that help overcome production challenges. Neptune is FOS (Friends of Sea) certified as an environmentally friendly company. It guarantees high humane standards of catching and processing krill, with as little impact on the environment as possible.
HIGH TECHNOLOGY - highly advanced processing technology guarantees a high-quality product
CLINICAL SUPPORT - Neptune conducts internal clinical testing of its patented products and does not rely on external testing. Additionally, early research conducted on NKO® became a milestone for the entire krill oil industry