SLAVITO Multivitamin Multi Kids - recommended by Dr H. Czerniak
MULTIVITAMIN  K I D S  - dietary supplement
Net weight: 150 g
Synergistic effect of several vitamins and minerals
 :
• Proper energy metabolism: Vitamins B1, B2, B3, B5, B6, B7, B12, D3, magnesium, manganese.
• Proper functioning of the nervous system: Vitamins B1, B2, B3, B6, B7, B12, magnesium.
• Normal psychological functions: Vitamins B1, B3, B6, B7, B9, B12.
• Eliminating the feeling of fatigue and weariness: Vitamins B2, B3, B5, B6, B9, magnesium.
• Healthy skin and maintaining the proper condition of the mucous membrane: Vitamins: A, B2, B3, zinc.
• Maintaining proper hair condition: Vitamin B7, zinc and selenium.
• Normal condition of red blood cells: Vitamins B2, B6, B9, B12.
• Proper homocysteine ​​metabolism and functioning of the immune system: Vitamins B4, B6, B9, B12.
• Support the body's immunity: Vitamins C, D3, zinc and selenium.
• Vitamin B2 helps maintain iron metabolism and, together with Vitamin E and manganese, helps protect cells against oxidative stress.
• Vitamin A, B2 and zinc - are responsible for proper vision.
Individual additional properties of individual vitamins - see the carton.
Powdered tropical fruit juice including mango, maltodextrin - bulking agent, Vitamin C (L-ascorbic acid), Vitamin B3 (nicotinamide), Vitamin E (DL-α tocopheryl acetate), steviol glycosides (stevia) - sweetener , Zinc (zinc gluconate), Pantothenic acid (calcium D-pantothenate), Vitamin B6 (pyridoxine hydrochloride), Vitamin B2 (riboflavin), Vitamin B1 (thiamine mononitrate), Manganese (manganese sulfate monohydrate), Vitamin A (retinyl acetate), Folic acid (pteroylmonoglutamic acid), Iodine (potassium iodide), Selenium (L-selenomethionine), Biotin (D-Biotin), Molybdenum (sodium molybdate), Vitamin D3 (cholecalciferol), Vitamin B12 (cyanocobalamin)
ATTENTION!!! Due to the use of natural  
juice, color differences may occur in the product. This does not affect the quality  
of the product.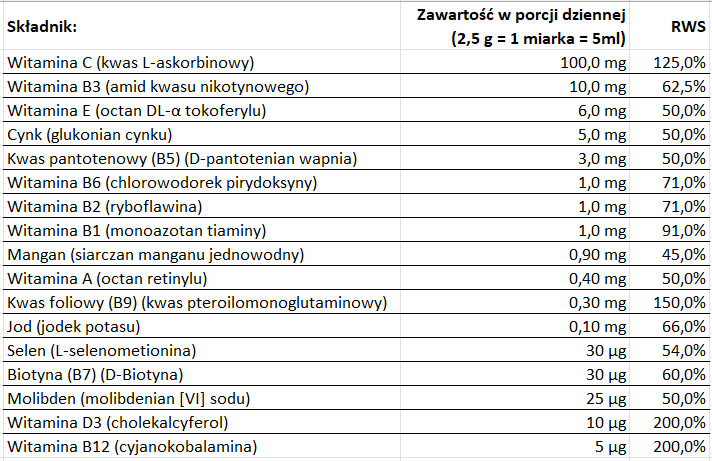 RWS - daily reference intake values ​​for adults
To obtain a beneficial effect of the product, measure 1 flat measure of powder (5 ml = 2.5 g of powder) and pour 100 ml of warm, boiled water while stirring. Consume in the morning during breakfast or in the evening during dinner. Do not exceed the recommended daily dose (1 scoop = 2.5g). A balanced diet and a healthy lifestyle are the basis for the proper functioning of the body.
The package includes a 5 ml plastic measuring cup.
Do not exceed the recommended daily dose. Dietary supplements cannot be used as a substitute for a varied diet. Dietary supplements do not replace a balanced diet and a healthy lifestyle. Children under 3 years of age - do not administer.
Children under 18 years of age: consult a doctor. Do not use in people who are allergic to any of the ingredients of the preparation, during pregnancy or breastfeeding. Consult your doctor if you are taking other preparations containing B vitamins.
Store in a dry place, at a temperature below 25°C, out of the reach of small children. Protect from light. The product has a very characteristic  
smell - this is a normal feature. After opening and each use, make sure the container is properly closed. Protect from moisture.
ATTENTION!!! The vitamin and mineral mixture is susceptible to caking in case of prolonged contact with humid air or a damp measuring cup (spoon). This type of clumping can be avoided by using a dry and clean measuring cup each time and by exposing the surface of the product as little as possible when taking a portion.