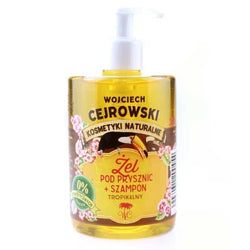 Wojciech Cejrowski 2 in 1 tropical shampoo and shower gel 300 ml
2 in 1 tropical shampoo and shower gel - hair shampoo and body gel with yerba mate extract
Shower gel and hair shampoo in a bottle with a convenient dispenser.
Thoroughly cleanses and does not affect the natural protective film of the skin. It is very well tolerated. 
Thanks to the avocado oil content, Tropical gel / shampoo moisturizes the skin and hair in a natural way. It has a tropical, very pleasant fragrance that brings back summer, holiday memories.
Ingredients:
gently cleanses and refreshes - mild cleansing agents,

yerba mate - delays the aging process because it provides youth vitamins: A and E, as well as antioxidants,

avocado oil - moisturizes and nourishes the skin and hair.
Indications:
Capacity: 300 ml
Directions for use:
Apply the gel / shampoo to the damp scalp or body. Massage until you foam, then rinse thoroughly. In the case of hair, washing should be repeated.
The product is intended for external use.
Ingredients:
Aqua, Coco-glucoside, Cocamide DEA, Cocamidopropyl Betaine, Polysorbate 20, Glycerin, Urea, Ilex Paraguayensis-Mate, Yerba Mate, Curcuma, Parfum, Lanolin, Avocado oil, Sodium Lactate, Phenoxyethanol, Benzoic Acid, Dehydroacetic Acid, Xanthan gum, Cl 19140, Cl 14720