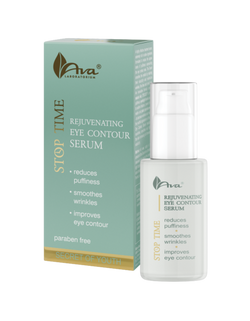 STOP TIME Eye Contour Serum 30 ml
Description
A light easily absorbed formula to combat visible symptoms of skin aging in the eye area. Contains many active substances preventing wrinkle development, reducing puffiness and swelling under eyes and evening the colour and texture of the eye area.
EYELISS® – reduces puffiness, eyebright extract – soothes irritations, prevents inflammations.
Serum moisturizes, smooths and tightens the skin of the eye contour, increasing firmness and elasticity. Reduces capillary penetrability and removes fine lines.
Leaves skin fresh, firm, moisturized and soft and fine lines and crow's feet reduced.
Apply the serum on clean skin around the eyes, gently pat and leave to absorb. Use in the morning and evening. Can be used under makeup.