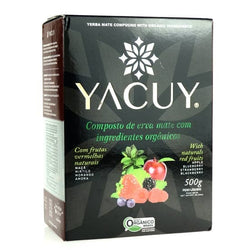 Sklep Kolonialny WC Yerba Mate Yacuy Tereré Red Fruits Vacuum 500 g
Chimarrão with the addition of apples, blueberries, strawberries and blackberries.
A good choice for people who appreciate the power of stimulating yerba mate, without the classic smoky aroma and bitterness.
Yacuy has been recognized as one of the cleanest yerba plantations for over 100 years.
Drought has been awarded an organic product certificate . 
This yerba mate is rich in antioxidants , tannins and saponins because it grows in perfectly fertile soil .
A mixture of very finely ground mate with larger pieces of sticks and leaves with a lot of dried fruit that comes to the fore in taste and smell. 
The addition of anise is dominated by a fruity note . Pleasant, sweet composition. 
When served cold, in the form of Tereré , it tastes like the best lemonade. Tereré is a way to quench your thirst and keep your body hydrated during warm summer days.
All flavors and aromas are stronger when warmed.
Ingredients:
95.4% 

 

juicy green dried yerba mate

 

(

 

Ilex paraguariensis

 

) - 

 

organic

2.47

 

%

 

apples

0.71%

 

blueberries

 

,
0.71%

 

strawberry

 

,

star anise

 

,
0.21%

 

blackberries

 

,

aromat.
Drought can be poured many times. Even with the fifth flooding, you can feel the fruity notes!
You can also drink it warm , pouring water at 70 degrees Celsius.
Taste and Aroma:
delicate yerba mate flavor,

devoid of bitterness

 

,
a sweet,

 

fruity fragrance

 

,

it is more delicate

 

in the cold

 

, and

 

stronger in hot.
Yerba's country of origin: Brazil
Weight: 500 g
The dried fruit is vacuum-packed, therefore it retains its taste and aroma for a long time after production.
Yerba Mate Yacuy Terere Red Fruit is a combination of yerba mate leaves from tropical forests with dried fruit and a small amount of anise!