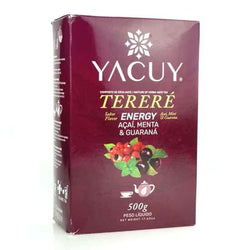 Sklep Kolonialny WC Yerba Mate Yacuy Tereré Energy Acai Mint & Guarana 500 g
Erva mate with wild mint and acai berry flavor
A perfect combination of green mate, wild mint, acai berries and guarana - the taste of fruity lemonade!
The refreshing taste of mint and the intense effect of yerba mate are a perfect composition for lovers of cold tere-mate.
Tereré is made of ice-cold water to make a wonderfully thirst-quenching drink . It tastes like lemonade!
A blend based on the very thick leaves of yerba mate , wild-growing mint with the aroma of acai berries and guarana!
Terere is a way to quench your thirst and stay well hydrated in summer.
Ingredients:
94% 

 

juicy green dried yerba mate

 

(paraguayan holly -

 

Ilex paraguariensis

 

) - a combination of coarse and medium-cut leaves with large sprigs of holly,
3%

 

mint

 

,
3% natural aroma of

 

acai and guarana

 

.
Drought can be poured many times. You can also drink it warm , pouring water at 70 degrees Celsius.
Taste and Aroma:
delicate yerba with a strong stimulating effect,

it is more delicate when cold

 

,

 

stronger when

 

warm

 

,
pleasant aroma of refreshing mint and

 

acai berries

 

.
Yerba's country of origin
: Brazil
Weight
: 500 g