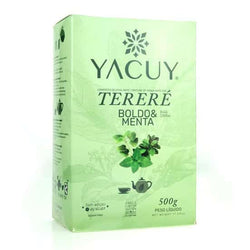 Sklep Kolonialny WC Yerba Mate Yacuy Tereré Boldo Menta 500 g
Mint green mate with larger sticks and thicker leaves, with an exotic boldo flavor.
Yerba mate with boldo and mint is another alternative to drink cold in the form of Tereré . We serve it with ice water for a refreshing and thirst-quenching drink .
A mixture based on very thick yerba mate leaves , wild mint and boldo . 
Boldo extract is used in South American countries to disinfect hospitals. Herbal supplements suppress the holly character for a naturally herbal infusion.
Tereré quenches thirst and hydrates the body very well on hot days.
It is a good choice both for those who are just starting their adventure with yerba and for experienced mateists .
Ingredients:
89% 

 

juicy green dried yerba mate

 

(paraguayan holly -

 

Ilex paraguariensis

 

) - a combination of coarse and medium-cut leaves with large twigs, holly,
8%

 

boldo,
3%

 

mint.
The dried fruit can be poured many times. You can also drink it warm , pouring water at 70 degrees Celsius.
Taste and Aroma:
delicate-tasting yerba with a natural stimulating power,

a refreshing mint and boldo aroma.
Yerba's country of origin:
 Brazil
Weight
: 500 g 
Yerba Mate Yacuy Tereré Boldo Menta is a perfect combination of yerba mate leaves from the tropical forests of Brazil with a blend of egoistic boldo and refreshing mint!