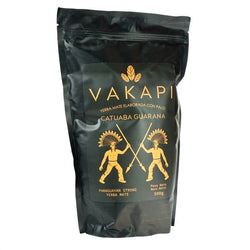 Sklep Kolonialny WC Yerba Mate Vakapi Catuaba Guarana 500g
Thick and energetic yerba for connoisseurs. The power of guarana and catuaba, broken with a delicate cleansing and wildly increasing mint.
Vakapi is a new, Paraguayan yerba mate, for those looking for a specific stimulation.
Intense, dark-green yerba with sticks and dust, along with guarana and catuaba, wild herbs and the aroma of forest fruits.
This is an offer for connoisseurs! Power and agitation.
Yerba Mate Vakapi Catuaba Guarana is a combination of the bitter aftertaste of tobacco infusion with the dry character of jungle fruit and herbs, appropriately added in the process. Each subsequent spill soothes the taste, but adds strength.
Yerba Mate Vakapi Catuaba Guarana:
guarana powder 3%,

catuaba bark cut 2%,

mint leaf,

herb purge,

natural aroma.
Yerba's country of origin:

 
Paraguay
Weight:

 
500 g