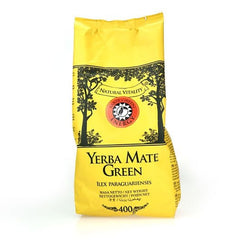 Sklep Kolonialny WC Yerba Mate Green Energy 400 g
Mate Green's blend with herbal and fruit additives gives a strong infusion, but without bitter notes.
Yerba dried without smoke.
The only such combination of Brazilian Mate Green with many herbal additives - valued ginseng, gunpowder green tea rich in antioxidants, field horsetail and powdered Brazilian camu camu berries. 
The drink is delicate in taste, but has a strong stimulating effect - this yerba does not mature for long - it goes into the hands of customers a few weeks after the harvest. 
The slight bitterness of the infusion almost disappears after the second pour. It can be poured even 6 times.
Mate Green  is dried without smoke, only with dry air.
Ingredients:
The basic ingredient is Mate Green from Brazil - a noble variety of mate. It is grown in shady places, which makes it tender and eliminates bitterness from the infusion. 
Due to the lack of smoking and aging , the dried fruit has an exceptionally delicate flavor . Drought contains about 95% leaves and 5% sticks. A small amount of sticks and dust. 
The majority of green leaves are cut, depending on the batch, from 3 to even 6 mm. Drought is free of dust , which significantly reduces bitterness.
91%

 

organic

 

yerba mate green

 

(paraguayan holly -

 

Ilex paraguariensis

 

) - a combination of holly leaves, sticks and stems,
Fruit side dishes:
camu camu

 

powdered fruit,

elderberry

 

fruit

 

,

coriander

 

fruit

 
Herbal extras:
field horsetail

 

,

gunpowder green tea

 

,

Siberian ginseng root.
If you drink mate in the form of Tereré with ice water, this mixture will work very well.
Taste and Aroma:
the smell of pineapple, coconut and papaya

 

- only natural plant flavors were used,

very delicate bitterness that disappears after the next spill,

a sweet aftertaste infusion.
The natural aroma lasts up to 6 refills.
Yerba's country of origin:
 

Brazil
Weight:
 

400g