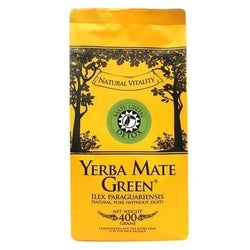 Sklep Kolonialny WC Yerba Mate Green DETOX 400 g
Yerba Mate Green DETOX is a product of the highest quality!
a combination of Green Mate from Brazil, growing in wild habitats, with nettle and lemon balm
A stimulating blend of yerba Mate Green with dried herbs. Mate Green  is dried without smoke, only with dry air.
Ingredients:

The main ingredient is Mate Green from Brazil - a noble variety of mate. It is grown in shady places, which makes it tender and eliminates bitterness from the infusion . Drought contains approx. 95% leaves and 5% sticks.
DOES NOT CONTAIN DUST.
93%

 

yerba mate green organic

 

(paraguayan holly - Ilex paraguariensis) - a combination of holly leaves, sticks and stems,

nettle

 

leaf

 

,

lemon balm

 

leaf

 

- has a calming effect and improves memory,

natural aroma.
A good choice for drinking hot and cold terrere.
Taste and Aroma:
delicate herbal aroma,

mild flavor, no bitterness.
Yerba's country of origin: Brazil
Weight: 400g