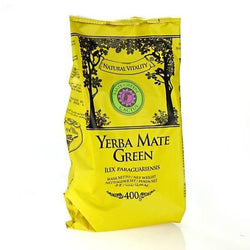 Sklep Kolonialny WC Yerba Mate Green Cactus 400 g
Mate Green Cactus is a blend of the original Brazilian yerba mate with cactus, purge and orange!
Air-dried yerba with toppings. A composition of the highest quality Mate Green with cactus , orange , cistus , lemongrass and mint. 
Excellent stimulant ingredients and a brilliant fragrance.
Mate Green  is dried without smoke, only with dry air.
Ingredients:
The basic ingredient is Mate Green from Brazil - a noble variety of mate. It is grown in shady places, which makes it tender and eliminates bitterness from the infusion. 
Due to the lack of smoking and aging, the dried fruit has an exceptionally delicate flavor. Drought contains approx. 95% leaves and 5% sticks. Completely dust-free, which also gives less bitterness.
95%

 

organic

 

yerba mate green

 

(

 

Ilex paraguariensis

 

) - a combination of holly leaves, sticks and stems,

herb purge

 

,

mint

 

,

lemongrass

 

,

orange

 

blossom

 

,
1%

 

powdered

 

cactus ,

natural aroma.
A good choice to drink warm and with Tereré ice water, and also as a refreshing cold drink with fruit juice.
Taste and Aroma:
stimulating

 

aroma,

a delicately herbal drink, no smoked aromas,

almost

 

devoid of smoky aftertaste.
The natural aroma lasts up to 6 refills.
Yerba's country of origin:
 

Brazil
Net weight:
 

400g