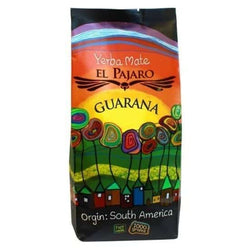 Sklep Kolonialny WC Yerba mate El Pajaro Guarana 400g
El Pajaro Guarana is an offer for lovers of strong arousal.
energizes not only thanks to a decent dose of caffeine from the leaves, but also thanks to guarana
An energetic mixture that stimulates thanks to a large dose of caffeine from yerba mate leaves and powdered, strong guarana.
Ingredients:

Drought contains leaves with sticks and yerba dust.
98%

 

yerba mate

 

,

 

elaborada

 

(Paraguayan holly -

 

Ilex paraguariensis

 

),
2% powdered

 

guarana

 

,
aromas

 

of lime

 

and

 

lychee

 

.
Taste and Aroma:
clear bitterness with a slight guarana aftertaste

the aromas of lime and lychee make the mixture very refreshing.
Country of origin:

 
Paraguay
Weight:

 
400 g