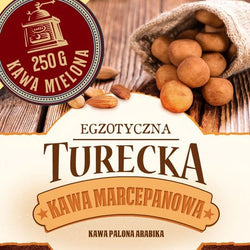 Sklep Kolonialny WC - Turkish marzipan coffee, ground 250 g
Turkish marzipan coffee
100% Arabica - ground with marzipan flavor
Weight: 250 g
A great combination of flavors. Prepared so that every sip of coffee becomes a moment of unforgettable pleasure.
It smells and tastes like almonds.
The coffee is freshly roasted and delivered directly from the private coffee roaster.
Liquid aromas intended for use in the food industry are added to the flavored coffees.