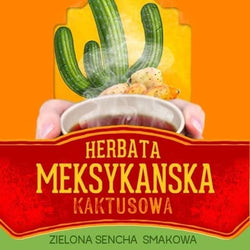 Sklep Kolonialny WC - Mexican cactus tea 100 g
Mexican cactus tea
Sencha green tea with the addition of:
papaya,

sunflower flower,

mallow flower,

aroma.
Sencha Green Tea Benefits:
- lowers blood pressure,
- flavonoids strengthen blood vessels,
- fluoride protects teeth against caries,
- tannins prevent cancer,
- cleanses from toxins,
- speeds up metabolism.
Rich in vitamins A, B1, B2, C, E, K, mineral salts and tannins.
Green tea cool infusion is used to rinse the eyelids in conjunctivitis.
Brewing method:
- put a teaspoon of dried fruit into a cup (200-250 ml)
- pour boiled water with a temperature of 80 degrees Celsius over it
- leave it to brew for 2-3 minutes.
Weight: 100 g
Packaging: ZIP string bag.
The tea is tightly closed to keep its aroma for a long time.