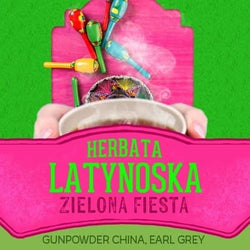 Sklep Kolonialny WC - Green Latin fiesta tea 100 g
Green Latin fiesta tea
Green tea gunpowder china, earl gray with lemon peel and lemongrass.
Green Tea Benefits:
- a source of many valuable vitamins and minerals: A, B1, B2, C, E, K, fluorine, iron, sodium, calcium, potassium and zinc
- protects against coronary artery disease and hypertension,
- lowers cholesterol,
- improves the body's immunity,
- has anti-aging properties,
- strengthens the nervous system,
- eliminates the feeling of heaviness after heavy meals,
- cleanses the body of toxins,
- supports weight loss.
Brewing method:
The water temperature depends on the species and ranges between 60 and 90 degrees Celsius, but it is important that it is not very hot boiling water.
Depending on the size of the leaves and the degree of crumbling of the herb, green tea should stand for 3 to 7 minutes.
Weight: 100 g
Packaging: ZIP string bag.
The tea is sealed to keep its aroma for a long time.