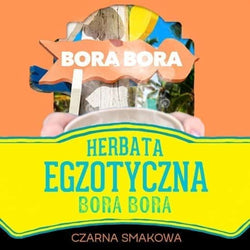 Sklep Kolonialny WC - Exotic Bora Bora tea 100 g
Exotic Bora Bora tea
Black tea with the addition of:
cinnamon

chocolate,

orange peel,

cardamom,

ginger,

red pepper.
Black Tea Benefits:
 high content of theine - has a stimulating effect,

 stimulates the digestive system to produce juices,

 improves blood circulation, reducing the risk of heart disease,

 prevents blood clots,

 protects teeth against caries.
Brewing method:
- put a teaspoon of herbs in a cup (200 - 250 ml)
- pour the dried with boiled water at 95 degrees Celsius
- steep, covered, for 2 to 3 minutes.
Weight: 100 g
Packaging: ZIP string bag.
The tea is tightly closed to keep its aroma for a long time.