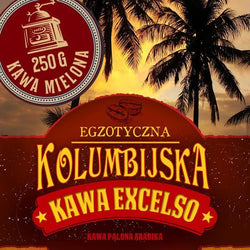 Sklep Kolonialny WC - Excelso Colombian Coffee, ground 250 g
100% Arabica - one of the best types of coffee in the world !
Extremely tasty, mild-tasting coffee. It has the highest export class. 
Weight: 250 g
Excelso means - wonderful, sublime. Arabica Excelso is just that special. This is the best coffee of Colombia - the world's largest producer of Arabica.
It is one of the most balanced, drinkable at any time of the day. Coffee with a wonderful, unique aroma, mild, very natural, slightly sour taste.
Arabica Excelso beans are grown at an altitude of 800 - 1900 m above sea level. They are processed wet, then dried in the sun and sorted by hand. Excelso Colombian beans have a greenish color, especially when freshly harvested.
Arabica Excelso can be brewed in pressure espresso machines, because it gives a rich and delicate flavor with a light caramel note.
The coffee is freshly roasted and delivered directly from the private coffee roaster.