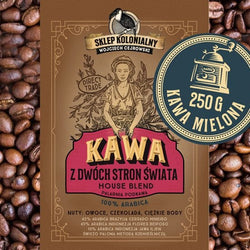 Sklep Kolonialny WC - Coffee From Two Corners Of The World, ground 250g
A combination of classic Brazilian flavor with exotic Indonesian notes.
100% Arabica
Profile: dark chocolate, caramel, sweet fruit, heavy body.
Coffee roasted in a roaster Podkawa is handcrafted, in small batches, so that it is always fresh.
A blend that starts with rich syrup, sweet fruit, caramel and ends with deep chocolate. 
100% Arabica - a unique combination of coffee beans with:
Brazil - Cerrado,

Indonesia - from the island of Flores,

Indonesia - from the island of Java.
Coffee Description:

100% Arabica:

 

45% Arabica Brazil Cerrado Mineiro

45% Arabica Flores Beiposo

10% Arabica Jawa Iljen

Origin:

Indonesia, Brazil

Treatment:

natural - full city + roast

Smoking:

italian roast

Notes:

dark chocolate, fruit, caramel
Packed in a special zipper bag with a valve.