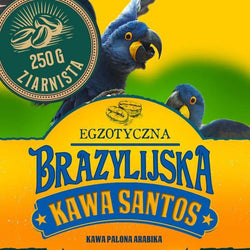 Sklep Kolonialny WC - Brazilian Santos coffee, whole beans 250 g
100% Arabica with low acidity - mild and delicate.
Coffee from the Santos region is characterized by an intense but mild aroma, a balanced nutty flavor and a relatively low acidity.
Brazil is one of the largest coffee producers in the world, and our coffee is one of the best Brazilian Arabica in the "soft" and "strictly soft" class. It is grown in the Sao Paulo area. 
It owes its name to the port from which it sails to Europe. It is grown at relatively low altitudes. Most of the harvest comes from small or medium-sized farms run by family businesses or small businesses.
Recommended for people looking for a coffee with a balanced strength and aroma.
For use:
in pressure coffee machines,

do espresso,

for brewing in Turkish.
To obtain an intense aroma, the coffee should be ground shortly before brewing.
The coffee is freshly roasted and delivered directly from the private coffee roaster.