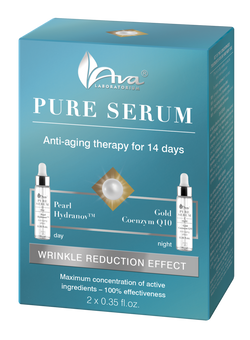 PURE Face SERUM Anti-wrinkle therapy – Wrinkle reduction effect 2 x 10 ml / 2 x 0.35 fl. oz.
Description
Set of two concentrated treatments for day and night use.
Anti-wrinkle treatment - The effect of reducing wrinkles
An innovative formula of two types of serums, combining unique technologies and exceptional ingredients.
Gold particles and white pearl extract have been enriched with extremely active ingredients:
HYDRANOV ™ epidermal hyaluronic acid activator which is a revolution in immediate and long-lasting skin moisturizing and
anti-aging coenzyme Q10.
Effective for dry, sensitive skin and as an anti-wrinkle prevention.
Volunteers confirmed effectiveness of Pure Serum in in vivo tests:
90 % immediate regeneration effect
85% instantly increased moisture level
95% long-lasting hydration
85% restored elasticity and firmness

Day serum:
A highly effective combination of Pearl extract and HYDRANOV™ that intensely moisturizes and soothes the skin.
Pearl extract – a symbol of perfect beauty, with its valuable minerals and essential amino acids, provides long-lasting effect of silky smooth skin and slows down aging process.
Epidermal hyaluronic acid activator HYDRANOV™ is a revolution in skin hydration. It works 3 times faster than hyaluronic acid. Acting on all layers of the skin, it stimulates ceramides synthesis, nourishes, strengthens and tightens the epidermis, filling wrinkles from inside.
Night serum:
Very active treatment combining unique properties of Gold and Coenzyme Q10 that effectively helps to regenerate and rejuvenate the skin. Particles of gold stimulate collagen synthesis, restore the three-dimensional structure of the skin and gently lighten discolorations. Coenzyme Q10 influences the normal metabolism of cells and protects the skin from premature aging by neutralizing free radicals.