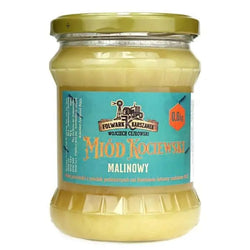 KOCIEWSKI raspberry honey produced for Wojciech Cejrowski 600 g
Raspberry honey from apiaries located in Kociewie - the family site of Wojciech Cejrowski.
Raspberry honey is a rare honey because it is difficult to obtain. Raspberries only bloom a few weeks a year. Pure raspberry honey is not pink, but has a bright golden color. 
Its taste is slightly raspberry and fruity, with a noticeable sourness. It is considered one of the best nectar honeys.
Health Benefits:
an invaluable 

source of energy

 - especially for 

people who work hard mentally or physically

 ,

has 

diaphoretic

 , 

warming and 

antipyretic properties

 - a good choice for colds,

tones

 and widens 

blood vessels, 

has a 

diuretic effect. 
Weight: 600 g
Glass packaging.
Best before the end of 2024
Pasieka Szwałek - Kamil Szwałek
83-130 Pelplin, Klonówka, ul. Kościelna 21
The history of beekeeping tradition in the Szwałek family dates back to 1896.
The highest quality raspberry honey from Kociewie!