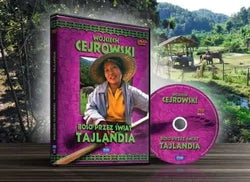 DVD Wojciech Cejrowski Barefoot across the world - Thailand
Episodes:
Invention

Asia

House elephant

Mahout

Buddhism (non-televised episode)
In the series of television programs "Barefoot through the world" Wojciech Cejrowski shows with fantasy and a sense of humor around the exotic corners of the world. This time, he invites you to Thailand.
Includes subtitles for deaf people.
Cast:

Wojciech Cejrowski

Screenplay and direction:

Wojciech Cejrowski

Pictures:

Józef Szymura

Music:

Łukasz Ciepłowski, Marek Czelejewski, Rafał Kołaciński

Production management:

Piotr Makos

Executive production:

W. Cejrowski Sp.

 

z o. o

Production:

Telewizja Polska SA 2009

Time:

121 minutes

Carrier:

DVD