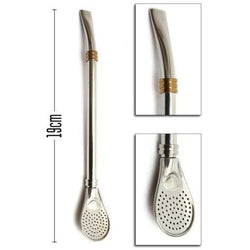 Bombilla Mercedes Gold - stainless, unscrewed 19 cm
A screw-up bombilla for drinking yerba mate, complete with a cleaning brush. 
disassembled

stainless steel

gold- colored cooling ring 

GOLD version

19 cm
Bombilla Mercedes Gold in a set with a cleaning brush.
A disassembled bombilla with a filter - a spoon-shaped strainer. The strainer is quite dense and will work well with almost any type of yerba.
stainless steel

gold-colored cooling ring

disassembled

spoon-shaped filter

length: 19 cm
It works well both in hot and cold (terrere) drunk yerba.
Can be washed in water with detergents or in a dishwasher.